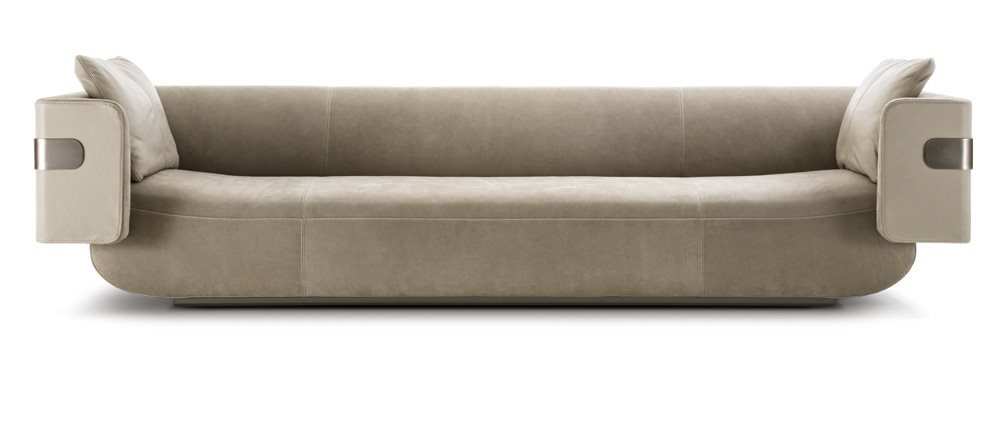 Structure in various woods, with the insertion into the base of special PVC slats that replace the traditional elastic bands making the seat last longer, more stable and more resistant.
The seat is in triple density medium/firm polyurethane foam with a rounded Memory Foam surface.
Backrest and armrest cushions are in two layers of medium/soft polyurethane foam.
The piece is covered with a joined resin liner for a pleasantly soft surface.
The metal base is painted in the colours bronze or black.
External armrests are wrapped in an elegant laser cut folded metal strip, available in the following galvanised finishes: Satin nickel, bright shaded brown, bright light gold, matt Champagne gold, bright chrome, bright black chrome, matt satin bronze, bright pink gold, matt pink gold, Black Rose gold.
Given the particular assembly of the product, the upholstery is not removable.
The small corner table from the MI collection has a wood structure covered with a thin layer of polyurethane foam.
The exterior is covered in a colour that matches the sofa, and the interior is available in panelling in different finishes:
- metal in the galvanic finishes coordinated with the sofa,
- bronze or smoky mirror,
- upholstered in leather which matches the sofa or in other leathers from the catalogue.
The table top is in marble from the catalogue or in backlit onyx or Patagonia marble.