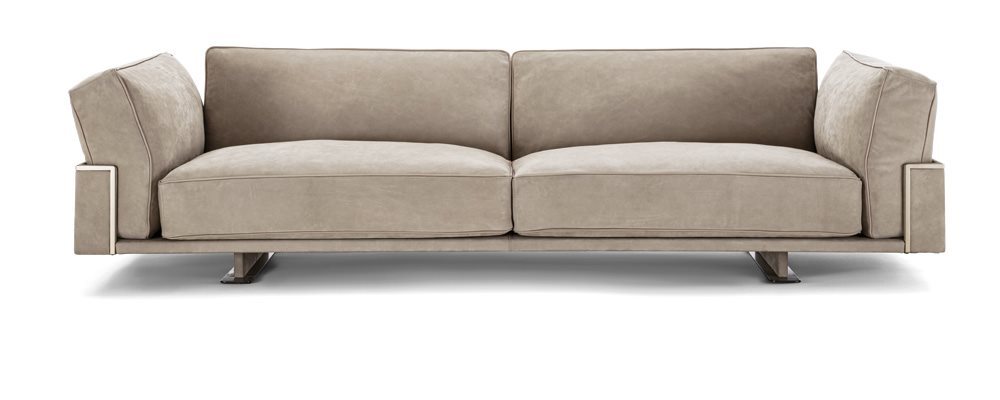 Structure with metal base and rigid top in poplar plywood. Perimeter structure in poplar plywood, covered with polyurethane foam bonded with velveteen.The shell enclosing the backrest cushions can be smooth or quilted with the diamond shaped "Ritual" decoration.The series comprises a wide variety of elements, such as armrests with service shelves and a small corner table.
- long armrest with shelf in marble or backlit onyx and tray covered in leather like the shell.
- small square corner table with marble or backlit onyx top and double tray covered in leather like the shell.
Backrest cushions are in polyurethane foam with an internal shaped metal frame to maintain the shapeconstantly inclined. They are fastened to the base with simple bolts. The foam is medium/soft density with arounded Memory Foam surface. All upholstery is in sterilised goose down, covered with a liner with bonded resin perimeter strips to maintain the square shape of the cushion.
Seat cushions are in triple layers of medium/firm density polyurethane foam, with a final rounded MemoryFoam surface, covered in a sterilised goose down liner with bonded resin perimeter strips to maintain thesquare shape.The external structure is wrapped in a metal frame, available in the following galvanised finishes: Satin nickel, bright shaded brown, bright light gold, matt Champagne gold, bright chrome, bright black chrome,matt satin bronze, bright pink gold, matt pink gold, black Rose gold.The feet have a support structure in poplar plywood and are covered in the same upholstery as the sofa, with a metal plate at the base with a painted bronze finish.
Given the special manufacturing process, the structure upholstery is NOT removable, but the seat and backrest cushion upholstery, in leather or fabric, can be removed.