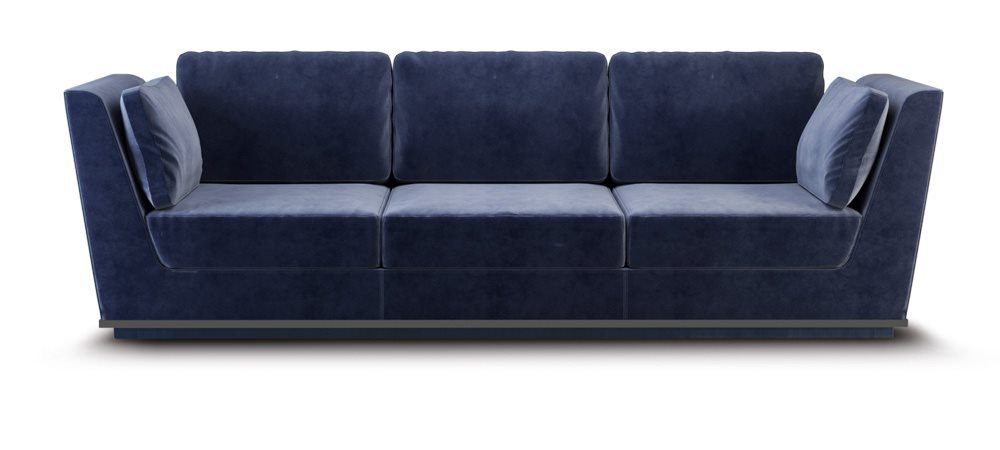 The series offers a choice of four types of armrests, interchangeable on both sides of the sofas.
- High padded armrest with side cushion.
- Low padded armrest without side cushion.
- Low armrest with metal shelf.- Low armrest with metal frame (coordinated with the ring on the base) and shelf in marble from the catalogue or mirror (version A or B).Some special elements feature the same service shelves (in marble or metal) mounted on the lowered backrest.The metal ring on the base is available in the finishes: Satin nickel, bright shaded brown, bright light gold, matt Champagne gold, bright chrome, bright black chrome, matt satin bronze, bright pink gold, matt pink gold, Black Rose gold.
The external upholstery in leather or fabric has a characteristic iconographic quilted pattern. The frame is in wood, with elastic bands, covered in high density, multi-thickness polyurethane foam. Seat cushions are in sterilised goose down with insert in multi-thickness polyurethane foam with memory foam reinforcement. Backrest cushions in sterilised goose down, with insert in soft polyurethane foam. Given the particular assembly of the product, the frame upholstery in fabric or leather is NOT removable, but both fabric and leather versions of seat and backrest cushion covers ARE removable, .Sofa also available with reduced depth (95 cm).