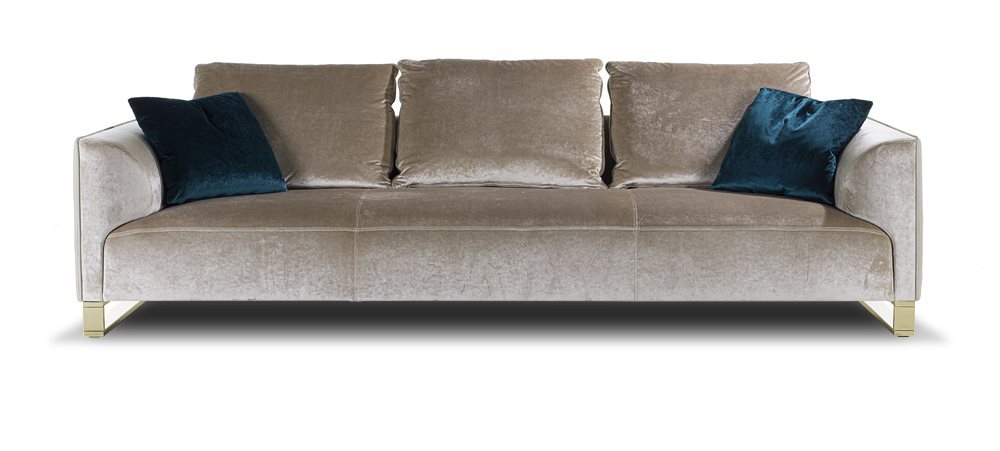 A modular sofa that allows multiple furniture compositions. Characterised - in the leather version only - by an elegant cut in the structure, with metal insert in the finishes: Satin nickel, bright shaded brown, bright light gold, matt Champagne gold, bright chrome, bright black chrome, matt satin bronze, bright pink gold, matt pink gold, Black Rose gold.
The metal foot matches the finish of the insert, and it is possible to add a wooden insert upholstered in leather or fabric.
The great peculiarity of the Fold sofa is provided by the seat, made with a wooden base with non-deformable elastic straps, combined with a polyurethane foam mattress with various density levels.
A rigid base layer maintains stability and avoids squashing.
At the centre of the seat, we find the "Breeze" insert, a revolutionary open-cell polyurethane foam, with a high level of resistance to ageing and deformation, which guarantees the dispersion of humidity, providing a feeling of the utmost well-being, and ensuring maximum comfort. Finally, a slab of Memory Foam, covered with an upholstery liner in joined resin, guarantees that the seat will return to its initial shape.
The backrest cushions are in sterilised goose down. The rest of the structure is in wood covered in high density polyurethane foam. In the version entirely upholstered in fabric, the metal inserts cannot be added. However, it is possible to match the outer part of the structure in leather (with metal insert) with the internal part in a fabric chosen from the samples.
Leather and fabric upholstery on the frame cannot be removed, except for the cushions on the backrest.