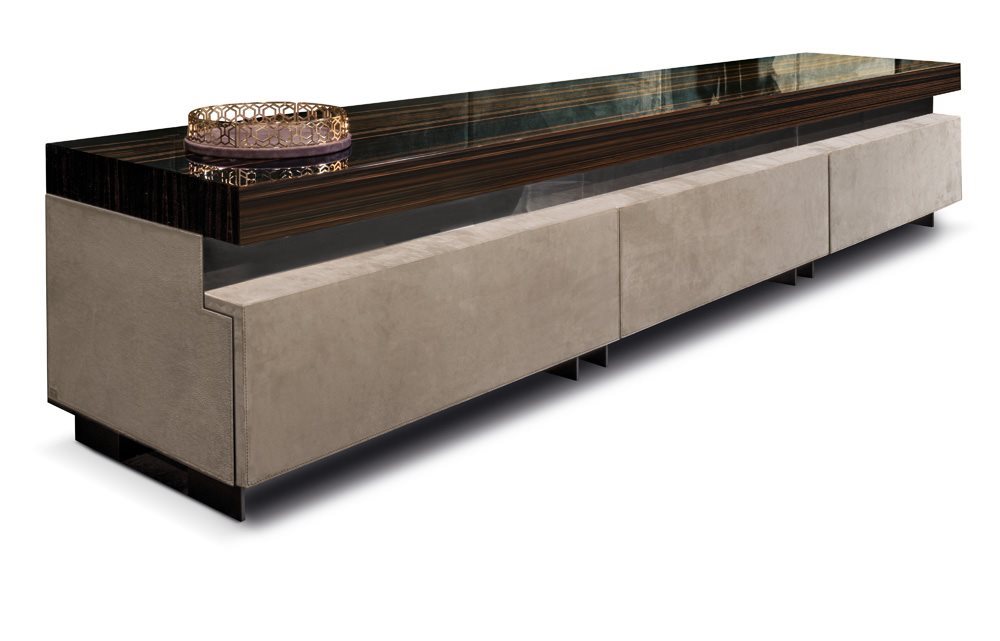 Modular system of living room containers, made up of large removable wooden drawers in the finishes: glossy/matt ebony, glossy/matt Canaletto walnut, glossy/matt Sycamore frisè, glossy walnut burl wood, Glossy lacquer in the colours ivory - rope - moka, Or entirely upholstered in leather. The base is made up of metal legs painted bronze. Push-pull opening mechanism and internal groove in the drawer in ground metal in the finishes: Black Rose gold, bright pink gold, matt pink gold, bright shaded brown, bright light gold, matt Champagne gold, bright chrome, bright black chrome, matt satined bronze. Dimmer-switched LED lighting with touch switch in interior groove Interior painted bronze and drawer unit bottom in Cat P.3 Suede leather.
Top in wood or in box shaped marble 10 cm: Dover White marble, Panda White marble, Corteccia marble, Port Saint Laurent marble, Red Levanto marble, Bardiglio Nuvolato marble, Elegant Brown marble, Shale Rosewood marble, Emperador Dark marble, Silver Wave marble, Agatha Black marble, Frappuccino marble, Calacatta marble, Fusion Light marble, Patagonia marble, Explosion Blu marble, Fusion Multicolor marble.
To diversify modularity, the system offers 3 types of internal outfitting to place in the drawer unit:
- a large drawer with a removable tray,
- a large drawer with an sliding shelf,
- a large drawer with two smaller drawers on the top.
Another option is to add a 50 cm high back raise in marble with dimmer-switched LED lighting with touch switch. The effect is like a beam of light illuminating the wall.