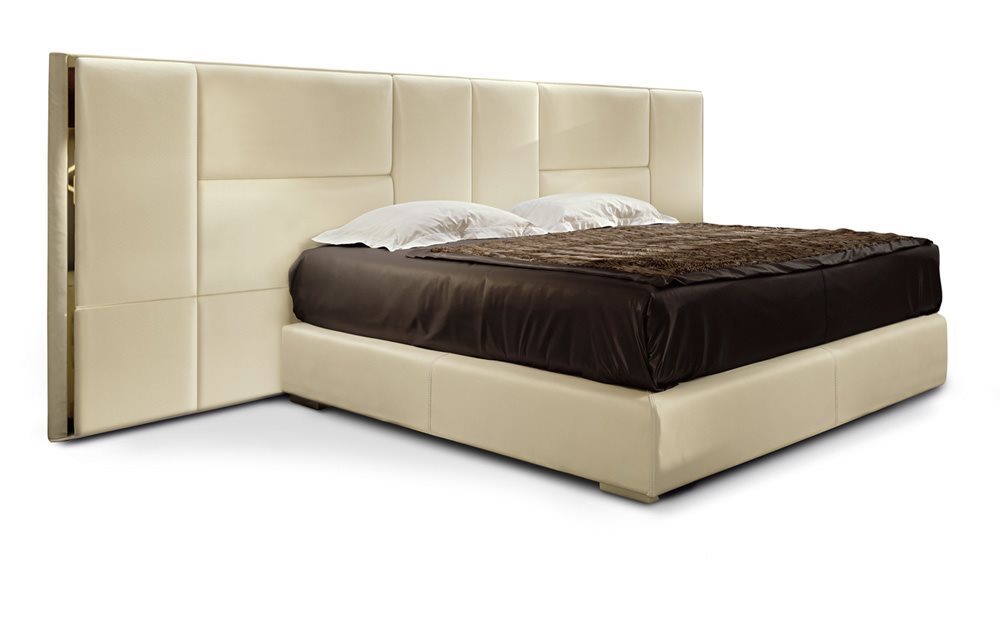 A bed characterised by a modular headboard, which can be adjusted to multiple positions both in height and in width.The structure is in wood, covered in polyurethane foam joined with nylon mesh. The panels are in medium-density polyurethane foam, upholstered and applied individually to the load-bearing structure (for ease of transport, in larger sizes it is divided into two parts). Attachment to the base takes place by means of practical bayonet joints. On the back of the headboard, provision is made for simple (and advisable) attachment to the wall, which allows the utmost stability and safety of use.The back of the headboard is available with leather or matching fabric upholstery, or covered with a matching canvas signed by Longhi. On request, in the upper part of the headboard, charming and soft dimmer-switched LED lighting can be applied.Two elegant chrome-plated aluminium inserts complete the sides of the headboard in the catalogue finishes.

For the base, two options are available:
- Sofa-bed with spring mattress, upholstered in leather or fabric.
- Bedframe base upholstered in leather or fabric, with the possibility of inserting: fixed frame with wooden slats - adjustable in height by means of practical metal corner pieces - with the sofa-bed with spring mattress inserted flush with the base, or with frame with a container compartment and silk-effect laminate bottom.
The bedframe contains a metal ring, chrome-plated in the finishes: bright shaded brown, bright light gold, matt Champagne gold, Black Rose gold, bright chrome, bright black chrome, matt satined bronze, bright pink gold, matt pink gold.